Carrington Youth Center
The Youth Center provides TV, VCR, Nintendo, pool, ping pong, air hockey and more for youth. Four to five dances a year are put on for the teens. The movie theatre also provides entertainment for adults and children with all the latest releases. The Youth Center also is used as a meeting center for boy scouts, girl scouts, 4-H, and many other organizations.
Located at 890 Main St it's a lively spot! Call 652-2159 for more information.
Starting September 2nd-Winter Hours: Friday-Monday @ 7pm
Movie
Carrington Youth Center Theatre
SHOWTIMES: Fri - Mon 7 p.m.
Carrington Youth Center Facebook Page
Bowling Alley
Come and join the fun at Central City Lanes!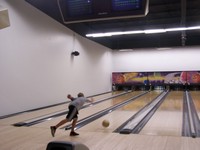 Open Bowling $3.50 / game
Seniors 55+ $2.00 / game
Juniors + $2.00 / game
Rental Shoes $ .50
Locations
Carrington Youth Center
890 Main Street
Carrington, ND 58421
City Lanes Bowling Alley
870 Main Street
Carrington, ND 58421
(701) 652-3800